Since Susan arrived in Montgomery in early August, we've been searching for the best food in town. Guided by Yelp, we ended up at Filet & Vine, a deli and bottleshop in the Old Cloverdale neighborhood. When I go to new places, I like to order whatever the special is or whatever the place is famous for, figuring that will be the most likely to bowl me over. So I asked the guy working the deli counter whether there was anything like that, and he suggested a sandwich made of shaved ham, coleslaw, and some kind of peppers, all on a baguette. I ordered it with a side of fried okra.
It was, quite possibly, the best sandwich I've ever had. The fried okra was okay, but that sandwich was incredible. Despite that, I did have some regret about ordering it, because as I moseyed down the line I came across this sign for an FGT-BLT:
If you know me, you know I love bacon. I also love tomatoes and mayo, so the BLT has always kind of been my go-to sandwich. I have even been known to get that BLT pizza from CPK. Bacon is GOOD. So I knew that I'd have to come back for that FGT-BLT.
A couple of weeks later, I got my chance. Susan picked me up at school and I suggested we head back to Filet & Vine so that I could scratch that FGT-BLT itch. All I can say is if you ever get to Montgomery, you should try it. The fried green tomatoes add another layer to this sandwich standard that is unexpected and delicious! I'll never look at a regular BLT the same way again. Here's a photo of this sandwich sensation:
And here's a picture of Joaquin enjoying his grilled-cheese sandwich: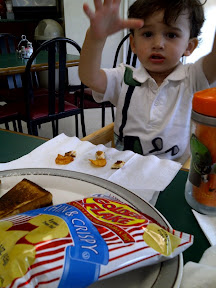 More updates soon - I have some catching up to do!
- Posted using BlogPress from my iPad